Three residents of a partially-collapsed, six-story apartment building in Davenport, Iowa, remain unaccounted for as search efforts continue.
The building, whose structural failure was considered imminent, was constantly complained about by tenants to property managers accused of indifference.
"Visible crumbling of this exterior load bearing wall under the support beam" was observed by city officials, according to a Feb. 2 notice.
A structural engineer report issued just days before an Iowa apartment building partially collapsed indicated a wall of the century-old structure was in imminent risk of crumbling, yet officials did not order residents to leave and said Thursday they relied on the engineer's assurances that the building remained safe.
Three residents of the six-story building in the eastern Iowa city of Davenport are still unaccounted for and there are no immediate plans to demolish what remains of the extremely unstable structure, according to local officials. Crews were using drones to scan the building and consulting with experts about how to safely bring down the structure while being respectful of bodies that could be buried in a debris pile, Mayor Mike Matson said.
"It's dangerous, and it's shifting," Matson said.
DAVENPORT, IOWA APARTMENT BUILDING COLLAPSE: WOMAN FREED AFTER LEG IS AMPUTATED
The six-story building partially collapsed shortly before 5 p.m. Sunday. Rescue crews pulled seven people from the building in their initial response and escorted out 12 others who could walk on their own. Later, two more people were rescued, including one woman who was removed from a fourth-floor unit hours after authorities said they were going to begin setting up for demolition.
Earlier this week, authorities said five people were missing, but Davenport Police Chief Jeff Bladel said during a media briefing Thursday morning that two of them have since been accounted for and are safe. One moved out of the building a month ago and was found in Texas, and the other was found locally.
City officials on Thursday named those unaccounted for as Brandon Colvin, Ryan Hitchcock and Daniel Prien. The city added that "It is believed these three individuals have high probability of being home at the time of the collapse and their apartments were located in the collapse zone."
Police Chief Jeff Bladel said transient people also often enter the building but there is no indication anyone else was inside and missing.
The city on Wednesday night released documents, including structural engineering reports, that show city officials and the building's owner were warned that the parts of the building were unstable.
An engineer's report dated May 24, just four days before the collapse, suggested patches in the west side of the building's brick façade "appear ready to fall imminently" and could be a safety hazard to cars or passersby.
The engineer's report also detailed that window openings, some filled and some unfilled, were insecure. In one case, the openings were "bulging outward" and looked "poised to fall." Inside the first floor, unsupported window openings help "explain why the façade is currently about to topple outward."
"The brick façade is unlikely to be preserved in place, but it can be brought down in a safe, controlled manner," the report stated.
Despite the warnings, city officials did not order that about 50 tenants leave the building.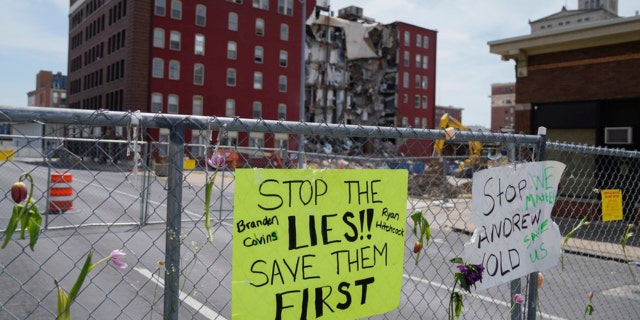 Rich Oswald, the city's director of development and neighborhood services, said officials relied on assurances from the structural engineer hired by the building owner. The engineer stated the building wasn't in imminent danger of collapsing on residents.
"A professional engineer is certified, right? They put their stamp on that. That's their professional career to make those decisions," Oswald said. "An engineer's report stamped by that engineer is a qualified report. They have state licensing. That's their job."
Andrew Wold, the building's owner, released a statement dated Tuesday saying "our thoughts and prayers are with our tenants" and that his company, Davenport Hotel, L.L.C., is working with agencies to help them.
County records show Davenport Hotel, L.L.C. acquired the building in 2021 in a deal worth $4.2 million.
Records show that several bricks had fallen off another part of the building's facade in 2020 after a severe wind storm.
As their building deteriorated, tenants repeatedly complained to the city in recent years about a host of other problems they say were ignored by the property managers. Some said they did not have heat or hot water for weeks or even months at a time. They complained of water leaking through their ceilings and toilets, damaged windows, and mold. City officials gave orders to vacate some individual apartments and tried to address other complaints, but a broader building evacuation was never ordered even as safety concerns mounted, records show.
City officials ordered repairs after they found seven fire code violations on Feb. 6, including trash and other items stored in stairwells, a lack of lighting in hallways, and a failure to test the fire alarm system as required. They were told three weeks later by building maintenance officials that "none of the work was completed," a record shows.
Assistant City Attorney Brian Heyer said he's unaware whether the city had considered earlier civil enforcement action to protect residents in the crumbling structure. Only after the collapse did the city file a civil infraction seeking a $300 fine against the building owner for failing to maintain the structure in a safe manner. The owner will be required to pay for the cost of demolition, he said.
Heyer said an enforcement action the city filed that resulted in a $4,500 fine in March against the owner for repeated trash overflows came in response to complaints from downtown residents and businesses about the debris.
Emails sent to an attorney believed to be representing Wold have not been returned.
IOWA FIRST RESPONDERS SEARCH PARTIALLY COLLAPSED APARTMENT BUILDING AGAIN, STILL CANNOT FIND SURVIVORS
MidAmerican Energy, an electric and gas utility, complained to the city in early February about an unsafe and deteriorating brick wall at the west corner of the building. The utility told city officials that its employees would not work in the area until improvements were made, including the installation of scaffolding.
A city notice dated Feb. 2 said the wall was gradually failing and cited "visible crumbling of this exterior load bearing wall under the support beam." The notice also said the exterior brick veneer had separated and allowed rain and ice to cause damage, and that the electrical and gas equipment on the outer wall had to be protected from the failure.
The notice ordered Davenport Hotel to provide an engineer's letter "stating this is not an imminent danger" and to take immediate steps to repair the problems, including installing scaffolding for protection so utility workers would be protected.
A Feb. 8 letter to the city from Select Structural, an engineering firm in Bettendorf, said an engineer conducted an emergency site visit Feb. 2 and determined the crumbling wall "is not an imminent threat to the building or its residents, but structural repairs will be necessary." It called for replacing a wall and other repairs, but cautioned of risk.
City inspectors monitored progress at the site and learned Feb. 28 that "the west wall has collapsed into the scaffolding" and were informed by workers that "it's going to be a bigger job that (cq.) what they believed it to be," a city spreadsheet shows.
CLICK HERE TO GET THE FOX NEWS APP
By March 3, the contractor, Bi-State Masonry, Inc., walked off the job after the building owner balked at approving a change order with a higher price tag due to "unforeseen work needing performed," the document states. It's unclear what happened next, and a person who answered a call to Bi-State declined comment.