EXCLUSIVE: A group of students tried to physically stop Cameron Robbins from jumping off a Bahamas cruise ship last week after he was reportedly dared to take the leap, Fox News Digital has learned. 
Robbins, 18, was on Blackbeard's Revenge sunset cruise with several hundred high school graduates from Baton Rouge, Louisiana, and jumped overboard into what authorities called "shark-infested" waters near the uninhabited Athol Island, northeast of Nassau, around 9:30 p.m. on May 24. 
A woman whose son was friends with Robbins and on the boat at the time told Fox News Digital that several students tried to grab Robbins before he took the plunge, but he broke free.
The woman, who wished to remain anonymous, said many of the students were part of a close-knit community that was in shock, disbelief, exhausted and cold as the U.S. Coast Guard, Royal Bahamas Defence Force and United Cajun Navy searched the waters until about 3 a.m. 
HAUNTING LAST WORDS SHOUTED TO BATON ROUGE TEEN AFTER HE WENT OVERBOARD AND VANISHED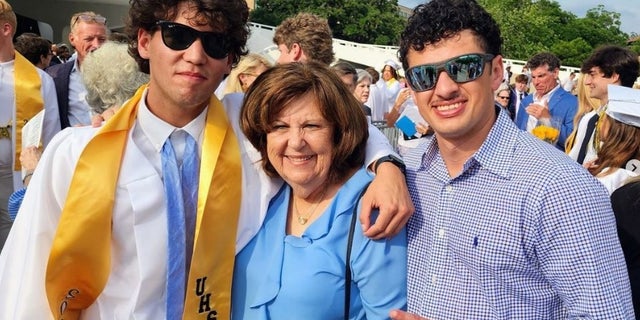 The small, pirate-lookalike cruise ship was anchored throughout the night, and the students were stuck at sea near the uninhabited island in what Royal Bahamas Defense Force Commodore Raymond King called "shark-infested waters."
Experts have told Fox News Digital there is a vast array of marine life, including dolphins, tiger sharks and bull sharks in those waters that feed off the scraps from the boats. 
BATON ROUGE TEEN STILL MISSING AT SEA AMID SPECULATION ABOUT 'SHARK-INFESTED' WATERS
"This was a booze cruise, and they were on their way back when this happened," the one student's mother said. "My son texted me when it happened, saying, 'Cameron jumped off. They can't find him.' They were out there until 2, 3 the morning. 
"It was terrible weather that night. The kids were cold, wet and traumatized. The girls were in bikinis and bathing suits. The guys were giving them their shirts. It was a bad time to bring drunk 18-year-olds out into waters near this island where there's nothing."
WATCH THE VIRAL CELLPHONE VIDEO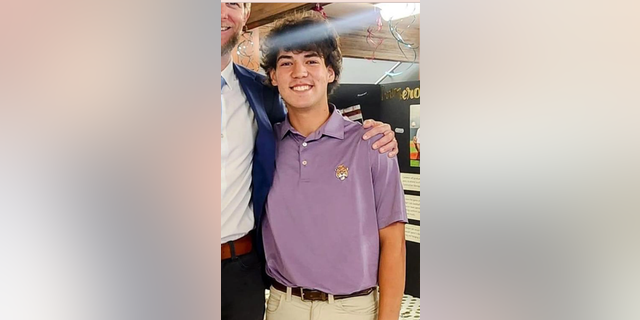 The two-day, 325-mile search for Robbins was called off Friday night. "We offer our sincerest condolences to Cameron Robbins' family and friends," the U.S. Coast Guard said in a statement.
The viral cellphone video of Robbins in the water, which was seen over 10 million times, went through virtually every type of edit on social media after a speculation-fueled narrative that Robbins encountered a shark gripped people's curiosities. 
MADISON BROOKS DEATH: LSU STUDENTS HAILED AS GOOD SAMARITANS AFTER ALLEGED BATON ROUGE RAPE
The video appears to show a shadowy object in the water move toward the recent high school grad, who was swimming toward a life preserver before changing direction. 
However, the cellphone footage is too dark and chaotic to definitively show what happened, and the theory is no longer officially being investigated at the request of Robbins' family, Brian Trascher, spokesperson for the United Cajun Navy, told Fox News Digital on Friday.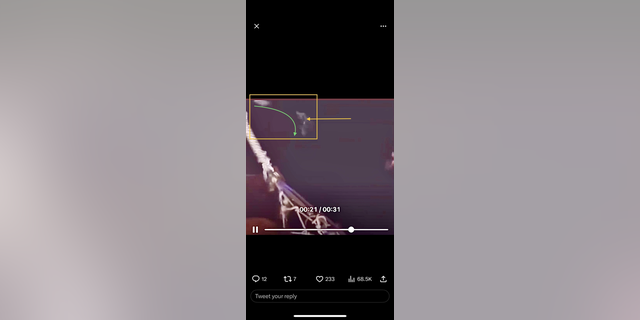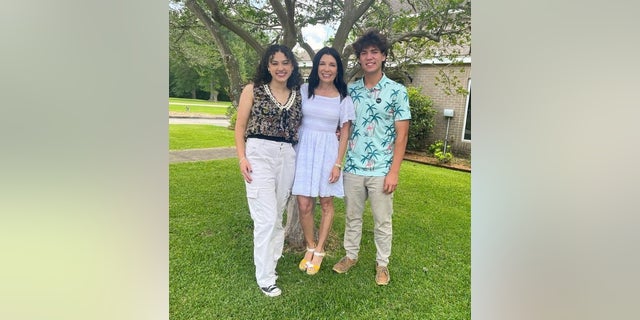 "None of the experts consulted can definitely say what's in the video due to the quality and length of the video," Trascher said. "The Robbins family has requested that we not entertain that theory any longer, so our official position is that we don't know what happened while Cam was in the water."
Authorities officially designated Robbins as "lost at sea," which is the same as a death certificate, and a memorial service for Robbins will be held Sunday at Broadmoor United Methodist Church in Baton Rouge.
LSU DEATH: MADISON BROOKS' LAST TEXT TO MOM, WHO 'KNEW SOMETHING TERRIBLE HAPPENED'
The cruise was not sanctioned by University Laboratory School, where Robbins had just graduated. It was planned by an independent company called GradWeek, which released the following statement to the media last week:
"Our thoughts and prayers are with the Robbins Family during this incredibly difficult time. Out of respect for the Robbins family's privacy, we feel it's inappropriate to comment on the details surrounding the night of the incident. 
"Bahamian Authorities have been conducting a thorough investigation of the incident and can provide the most accurate information once they have completed their investigation."
WATCH BRIAN TRASCHER'S TUESDAY INTERVIEW ON "AMERICA'S NEWSROOM"
The high school baseball standout graduated from Baton Rouge's U-High on May 21, and his last posts on Instagram include pictures of him surrounded by his family and friends. 
Kevin George, the director of the school, told local news outlet WBRZ that Robbins was a "special kid."
He has "been here throughout his entire educational career. He's an athlete, great kid, great smile, great head of hair. Just one of the kids you're so proud of when they cross the stage," George said.
CLICK HERE TO GET THE FOX NEWS APP
Sunday's memorial service will begin at 4 p.m., with visitation hours between 2 and 4 p.m.
In lieu of services, a donation in Robbins' name may be made to Christian Homes & Family Services in Abilene, Texas.