Port Orange, Florida police arrested a man recently after he threw a piece of lunch meat at an officer.
The Port Orange Police Department posted video of the incident to Facebook, which shows William Busi become aggravated with an officer before chucking the mystery lunch meat and striking the officer in the chest.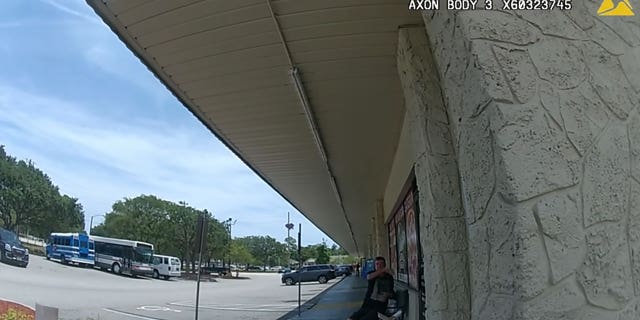 In the video, a clerk inside a smoke shop told the officer she called about a disturbance after a man, later identified as Busi, visited the store several times and bothered her and the customers.
FLORIDA PROFESSOR DUBBED 'DR DEEP SEA' SETS WORLD RECORD FOR LONGEST TIME SPENT LIVING UNDERWATER
She also told the officer the man made her feel "uncomfortable," said a lot of vulgar things to her, grabbed merchandise and tried to go behind the counter.
When the officer approached Busi outside, he said he was arrested about eight months ago and spent 18 months in prison.
Busi told the officer he was suing the Volusia County Sheriff, and asked if he sued the Port Orange Police Department for $250,000, whether that would be tax-free.
The officer said he had no idea, to which Busi said he would have to speak to his accountant about that.
FLORIDA SCHOOL BOARD MEMBERS WEIGH IN ON 'FURRY DRESS ATTIRE' AT SCHOOL BOARD MEETING: 'IT'S INAPPROPRIATE'
When the officer told Busi that the clerk inside the smoke shop called to say he was bothering the customers, Busi said the clerk told him to be quiet and leave, which he claims to have done.
The officer told Busi if he goes back into the store, he would be trespassing, adding he is no longer allowed to go inside.
Busi told the officer the clerk will have to put his $2,000 worth of merchandise outside the store, which he claimed she was holding.
Busi then said, "Go ask her. Go ask her right now. Go ask her, you mother******."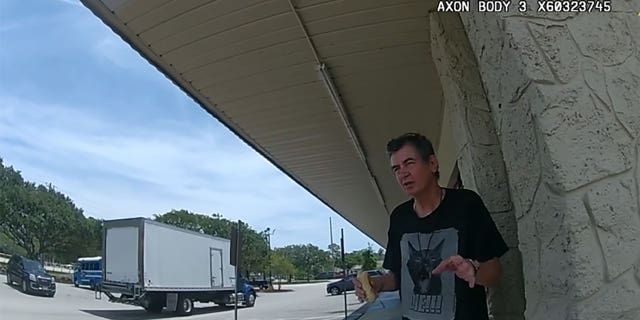 As Busi got angry, he threatened the officer to come closer so he could brawl.
FLORIDA DEPUTY RESCUES ESCAPED 6-FOOT BOA CONSTRICTOR ON ROAD
He slammed his sandwich down on the bench and put up his dukes, taunting the officer to throw down, and attempting to perform a Karate kick.
"I got a black belt in karate and a black belt in Judo," Busi said. "You're going to be in a world of hurt."
Busi also told the officer he was going to take his gun and Walkie Talkie before driving off in his patrol car.
After having a few more words with the officer, who reminded him he was trespassing, Busi reached down to his sandwich and threw a piece of deli meat at the officer, striking him in the chest.
"Go ahead, arrest me," Busi said.
So, the officer did.
Busi was placed in handcuffs and walked over to the police vehicle.
On the way, he told the officer he was going to sue the police officer for "a million" or "ten million," adding he would be out in 30 minutes.
When asked why he threw something at the police officer, Busi said it was because he "pissed" him off and that he was acting like a jerk.
CLICK HERE TO GET THE FOX NEWS APP
Busi also told the officer he was lucky he did not have his pocketknife on him because he would have stabbed the officer to death. He was ultimately arrested for battery of a law enforcement officer.
The Port Orange Police Department shared the video on Facebook, giving people a crash course that include behaviors sure to backfire in the city, like disrupting businesses and threatening workers; threatening officers; imagining that you have black belts in Karate and Judo; and hitting officers in the chest with lunch meat.