A staple seafood species caught by East Coast fishers for centuries is experiencing overfishing, and regulators have cut catch quotas by more than 80% to prevent the fish's population from collapse.
Haddock are one of the most popular Atlantic fish, and a favorite for fish and chips and other New England seafood dishes.
But fewer haddock will be caught in New England this year after regulators cut fishing quotas. A recent scientific assessment found that the Gulf of Maine haddock stock declined unexpectedly, and that meant the catch quotas for the fish were unsustainably high, federal fishing managers said.
FISHING PLAN WITH CANADA GIVES US MORE COD, LESS HADDOCK
The National Oceanic and Atmospheric Administration added the Gulf of Maine haddock stock to its overfishing list last month. The New England Fishery Management Council, a regulatory board, has lowered catch limits of the fish in an attempt to halt the overfishing, said agency spokesperson Allison Ferreira.
However, numerous fishers said the assessment doesn't match what they're seeing on the water, where haddock appear to them to be plentiful. And the warning from the federal government arrives as more New England fishers rely on haddock than in previous decades because of the collapse of other seafood species, such as Atlantic cod.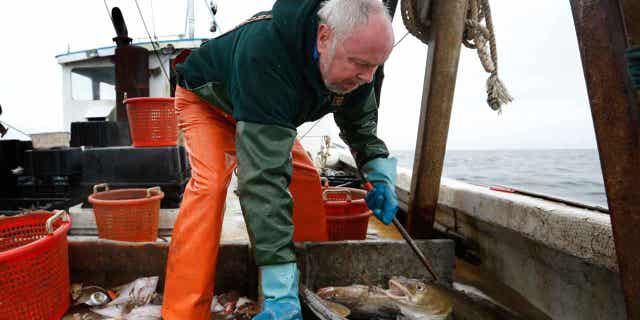 "We seem to find plenty, but they can't," said Terry Alexander, a Maine-based fisher who targets haddock and other species. "It's a disaster is what it is. A total, complete disaster."
THE CODFATHER GETS NEARLY 4 YEARS FOR EVADING FISHING QUOTAS
The fishery management council mandated the 84% reduction in catch quotas for the current fishing year, which started May 1. The change applies to fishers who harvest haddock from the Gulf of Maine, a body of water off Massachusetts, New Hampshire and Maine. Fishers also harvest from Georges Bank, a fishing ground to the east where quotas were also reduced for this year, including adjoining areas overseen by Canadian officials who issued their own major cuts.
Americans are still likely to find haddock available despite the cuts because most of it is imported, according to federal data from 2021. Some countries that export haddock are also cutting quotas this year. But recent announcements of cuts by major exporters like Norway have been much lower than in the Gulf of Maine, and they represent a much larger share of global fish stocks.
Declining fish stocks threaten economies, food security and cultures around the world. The United Nations Food and Agriculture Organization says more than a third of global fish stocks are overfished, and the rate of unsustainable fishing is rising. However, seafood species' health varies significantly from region to region. Some, such as American lobster, have grown in catch volume in recent decades.
The U.S. catch of haddock has fluctuated over the past century. In the early 1950s, over 150 million pounds were caught each year. Overfishing caused catches to plummet below a million pounds per year in the mid-1990s, and rebuilding efforts followed. Over the past few years, catches have ranged from 12 million to 23 million pounds.
Haddock are caught by the same fishers who target other bottom-dwelling groundfish species such as cod, pollock and flounders. They are harvested at a much higher volume than any of those fish.
CLICK HERE TO GET THE FOX NEWS APP 
The fish are one of few profitable species on the East Coast said Ben Martens, executive director of the Maine Coast Fishermen's Association. He says losing the ability to catch them is a big hardship for the industry.
"I don't think this stock is in trouble, and I think fishermen are in trouble because of that," Martens said. "With this significant cut that is coming, that's a major gut punch."