Residents of major Democrat-run cities across the country are sounding the alarm about the growing number of homeless encampments as government policies do little to help – and in some cases, make things worse.
The increasingly visible crisis has resulted in business owners fleeing some areas as some residents describe feeling less safe.
"I felt safer when I was walking around in downtown Saigon when I was in Vietnam than I do here in Portland," 83-year-old Vietnam veteran Armand Martens told Fox 12 Oregon about a homeless encampment rife with reports of drugs, thefts and multiple fires. In one incident, exploding propane tanks sent his neighbors running and screaming in fear.
Real estate developer Dustin Michael Miller told "Fox & Friends First" that he's moving his business out of the city after his office was riddled with bullets in an incident he called "absolute madness."
LOS ANGELES NONPROFIT HANDING OUT CLEAN METH PIPES TO HOMELESS ON SKID ROW: REPORT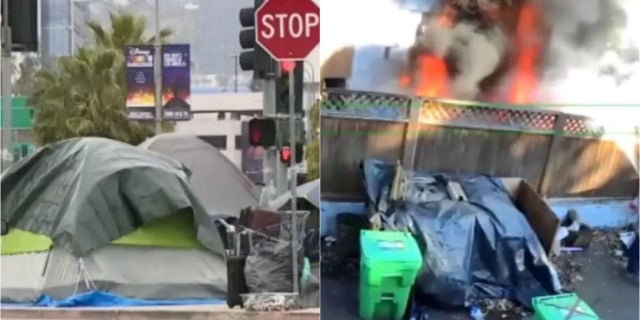 "It's not uncommon to see homeless people running around the city with axes and machetes, and it's just a common thing that nobody does anything," Miller said. "You call the police, and it's very rare that they show up."
Miller's departure will add his company's name to the growing list of businesses that have pulled out of Portland, including Cracker Barrel and Walmart.
Portland census data showed the city has lost 0.04% of its population after growing for 30 years straight. While the general population has declined for three years in a row, Mayor Ted Wheeler's office reported a 50% increase in homelessness from 2019 to 2022. 
A common theme in the reports of businesses and residents being terrorized by homeless encampments is that they often have no recourse, and in many instances, cities have been accused of pushing to make life easier for the homeless at the expense of the business owners.
Critics say that's the case in Portland where the Democrat-controlled City Council responded to the growing homeless crisis last month by proposing legislation that would decriminalize public camping with a bill known as the "Right to Rest Act."
'HAPPY DAYS' STAR SCOTT BAIO ANNOUNCES HE'S LEAVING CALIFORNIA DUE TO HOMELESS CRISIS, CRIME
Additionally, the bill would have allowed homeless individuals to sue for $1,000 if they are harassed and told to relocate. The legislation was ultimately shelved due to public outcry. 
In nearby Eugene, Oregon, homeless encampments are proving equally taxing on residents, including an "RV squatter" encampment where a resident recently said he asked a homeless individual performing a sex act in public to leave, prompting the individual to attack him with a metal bat and spit blood on him. 
Eugene police eventually cleared out the encampment but acknowledged that the problem, which has been an issue for two years at that specific location, is "cyclical."
SAN DIEGO UNDER FIRE FOR 'FRUITLESS' PLAN TO HOUSE HOMELESS IN 3 HOTELS AT NEARLY $400K PER ROOM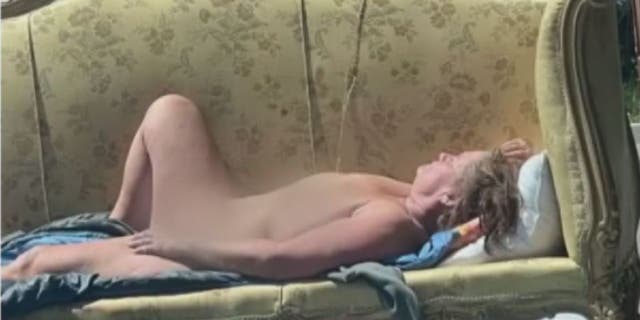 Roughly 300 miles north, in Seattle, residents say homeless encampments are preventing them from safely going to church, and critics say the homeless are emboldened by the lack of penalties they face for crimes.
"It's largely because there is no consequence for anything of this nature in Seattle," former Seattle firefighter Andy Pittman told "Fox & Friends First" last year.
Pedro Morales, a business owner in Austin, Texas, recently became one of the latest victims of the growing homeless crisis in that city where a homeless encampment popped up in an alley next to a property he rents out. 
"When is enough going to be enough?" Morales said to Fox News Digital while detailing the lack of help he has received from the city and the severely understaffed police department. "When does harassment of another person's safety and happiness come into play?"
In Los Angeles, 69,144 people were living on the streets in 2022, which is up 4.1% since 2020. L.A. business owners said they are having similar problems getting any help from the city to address the homeless crisis.
I TALKED TO 2 EX-HOMELESS PEOPLE ABOUT NEWSOM'S 'INVESTMENT' IN HOMELESSNESS. THEIR ANSWERS WILL SHOCK YOU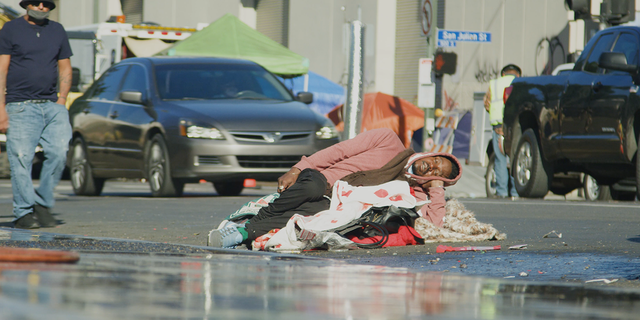 Graphic scenes of lawlessness continue to emerge from L.A. homeless camps, including recently in the Beverly Grove neighborhood where a naked homeless woman was spotted lounging in public on a couch.
"It's easier to send a rocket to the moon than send a letter to the mayor's office," L.A. business owner George Frem told "Fox & Friends."
To the north, in San Francisco, retailers are fleeing in droves as the homeless crisis and the crime that comes along with it has led to shoplifting and violence against employees.
Despite the anguish expressed by residents and businesses, a San Francisco Democrat recently proposed legislation to "specifically prohibit security guards from drawing their weapons to protect property."
EX-SAN FRANCISCO OFFICIAL HOSPITALIZED IN PIPE BEATDOWN SAYS CHARGES TO BE DROPPED AGAINST HOMELESS SUSPECT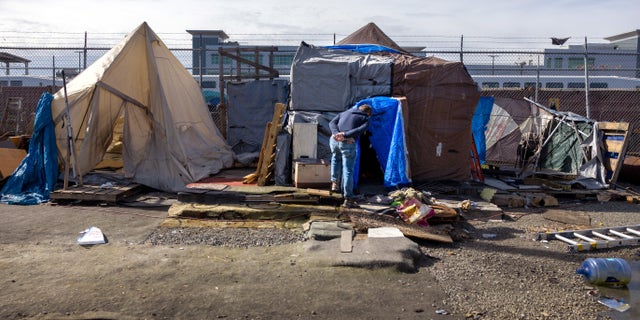 Cully Stimson, senior legal fellow at the Heritage Foundation, told Fox News Digital that the root cause of the problem is the mass legalization and decriminalization of drugs.
"Homelessness and the increase in homelessness would not happen to the extent it is happening had there not been, and continues to be, a push to legalize every drug," Stimson said.
"The more people who are somnolent, the more people who are stoned, the more people who are given a free pass to use whatever drugs you want, the more you're going to have people who are incapable of holding down a productive job," said Stimson, who co-authored a book with Heritage legal fellow Zack Smith called "Rogue Prosecutors: How Radical Soros Lawyers Are Destroying America's Communities," which is set to be released in June.
CLICK HERE TO GET THE FOX NEWS APP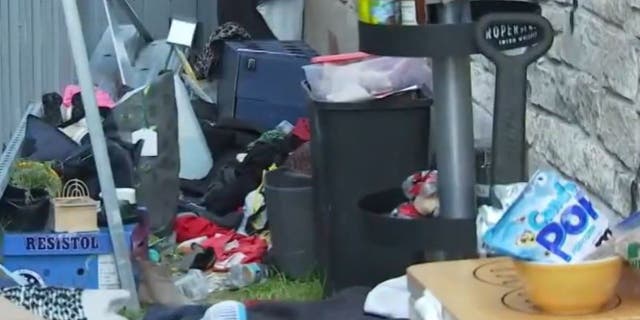 Stimson told Fox News Digital he gave a keynote speech last June to the International Association of Claims Professionals where he says the biggest insurance conglomerates in the world told him "they are seeing massive spikes in claims by businesses in cities" and wanted to know if there was a connection between Stimson's work on progressive prosecutors funded by billionaire George Soros and property damage in many of the cities struggling with homelessness.
"Of course there is a connection," Stimson told Fox News Digital, explaining that lawmakers easing punishments for drugs and other crimes while being protected by qualified immunity makes them impervious to legal pushback from residents and businesses.
"They're trying to create a socialist nightmare scenario for everybody," Stimson said. "In their world, I guess they think it's hunky-dory. Everyone else knows it diminishes the quality of life and public safety to the point where they leave, and so the only recourse these people have and these businesses have now is to leave, and they've done it in droves."