The Senate Democrats' campaign arm is threatening to sue West Virginia Gov. Jim Justice after he refused to give them key records from his gubernatorial tenure, the Democratic Senatorial Campaign Committee (DSCC) wrote in a letter on Monday.
A statement from the DSCC said its lawyers sent Justice a "litigation hold and notice that the DSCC is preparing to sue" to demand release of those records related to Justice's scheduled official meetings as governor. The DSCC cited news stories citing an "ongoing scandal over his work schedule," following an Associated Press story that said Justice was "largely absent" in his job.
Justice's campaign said the move showed Democrats were "in panic mode" over his bid to run for the Senate. In a statement first sent to Fox News Digital, Justice's team dismissed the legal threat as an effort by Democrats to bolster his GOP primary opponent, who they see as less competitive.
"Chuck Schumer and the Democrats have seen the polling that shows Governor Jim Justice winning this race and are in panic mode," Justice campaign manager Roman Stauffer said. "They want Alex Mooney as the Republican nominee because they can beat him. The Democrats see that Governor Justice will be West Virginia's next U.S. Senator and will likely help Mooney in the Republican Primary Election."
JOE MANCHIN THREATENS TO OPPOSE BIDEN NOMINEES OVER UPCOMING POWER PLANT CRACKDOWN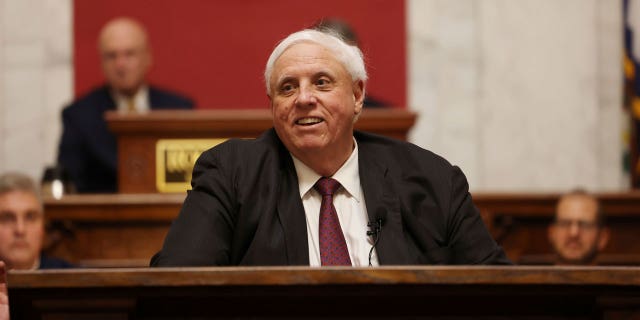 Democrats are working to turn up the heat against Justice, who announced late last month that he's running to unseat Sen. Joe Manchin, D-W.Va., in 2024. Senate Republicans have long eyed the popular governor as their best chance to defeat Manchin, a moderate Democrat, in a state former President Donald Trump carried by double digits in 2020.
"Jim Justice cannot hide his work schedule – or lack thereof – from West Virginians, and this is an area which is sure to receive further scrutiny in his nasty primary," DSCC spokesperson David Bergstein said Monday.
WHO CAN BEAT MANCHIN IN WEST VIRGINIA? REPUBLICANS AREN'T SURE YET
The DSCC filed two separate Freedom of Information Act requests (FOIA) in recent weeks seeking information on Justice's official schedule. Both were denied. The most recent request sent to J. Berkeley Bentley, general counsel of the Republican governor's office, came on April 13 and was denied on April 20, according to a letter sent by DSCC counsel Jacquelyn Lopez on Monday.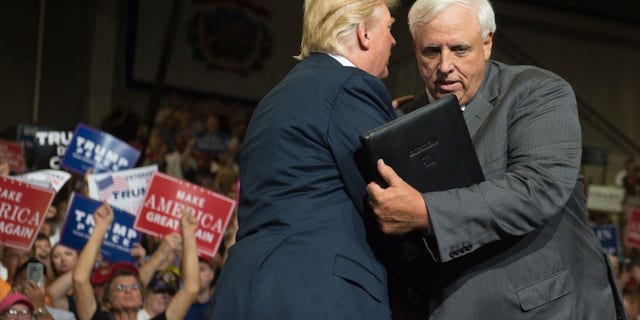 According to the note, the DSCC sought "copies of records containing scheduled official meetings involving Governor Jim Justice, his Chief of Staff, his Deputy Chief of Staff, and his General Counsel, from January 2017 to the present."
JOE MANCHIN'S SENATE SEAT RACE HEATS UP AS GOV. JUSTICE JUMPS IN: 'I'M WORRIED ABOUT THIS NATION'
Justice's gubernatorial office "denied the request in full." Lopez's letter accused Justice's grounds for denial of having no merit.
"Citing out of state precedent, you contend that the information is maintained only in draft format and is frequently revised, but there is no 'draft' exception in the West Virginia FOIA," it said.
The letter warned Justice's office that the DSCC would soon "commence a proceeding" to "enforce" its "obligations" to produce his work schedule, and demanded that Bentley preserve the relevant records.
CRUZ BACKS ALEX MOONEY IN WEST VIRGINIA SENATE RACE AS GOP WORKS TO UNSEAT JOE MANCHIN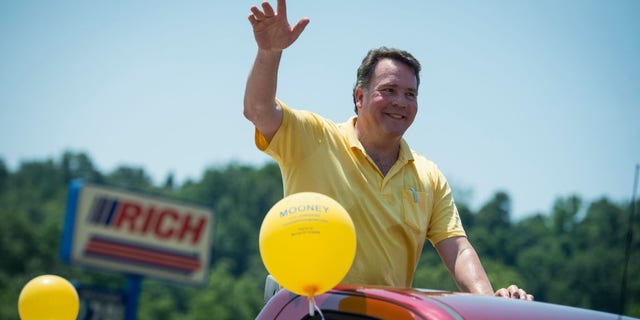 "Your response implicitly acknowledges that documents responsive to the April 13 request exist. Please ensure that they are maintained, in full, until that proceeding is resolved," the DSCC said.
As for Manchin, the moderate Democrat has not said whether he plans to run for re-election. Before Justice can face Manchin, he must first survive what's expected to be a heated primary race against U.S. Rep. Alex Mooney, R-W.Va.
Mooney is coming fresh off of a 2022 cycle that saw him pitted against a fellow House Republican, former Rep. David McKinley, R-W.Va. Mooney sailed to victory with Trump's backing, while McKinley was backed by Justice.