GOP lawmakers rejected funding Thursday for the University of Wisconsin's top priority, the replacement of an engineering building on its flagship Madison campus, approving allocations for about 60% of the state government and UW projects sought by Gov. Tony Evers.
The Republican-controlled budget committee voted along party lines to fund nearly $2.4 billion in building projects statewide, down from the $3.8 billion Evers had asked for. Republicans called that an unrealistically high request. The cuts for building projects are similar to what Republicans did in each of the Democrat's previous two state budget proposals.
Projects on UW campuses took the biggest hit. The Joint Finance Committee approved roughly half of the $1.8 billion Evers wanted for UW.
Democratic Sen. Kelda Roys, whose district includes the UW-Madison campus, blamed Republicans for cutting projects there because Madison is a Democratic stronghold.
"It is a terrible economic decision," she said. "It makes no economic sense. It only makes sense of you think of it as political retribution."
Not included was UW's top priority: $197 million Evers requested to demolish and build a new College of Engineering building on the Madison campus. Another $150 million for the project was to come from gifts and grants.
WISCONSIN GOV. EVERS 'JAZZED AS HELL' AS STATE RAISES PRIDE FLAG IN FRONT OF CAPITOL
Roys said about $110 million has already been raised, but those donors may back out if the state doesn't fund the rest.
The engineering building was the single largest item requested for the flagship campus, with UW leaders saying a state-of-the-art facility would help attract and retain talented faculty members and students.
UW-Madison Chancellor Jennifer Mnookin in February called it a "critical project" that would help boost economic development in the state.
"UW-Madison's engineering building is our top priority for a reason," UW System President Jay Rothman said in a statement after the vote. "Investing in this facility will help address a crucial workforce shortage in the state as well as enhance the world-class research that draws talent into our state and drives economic vibrancy. We will continue to champion this vital project."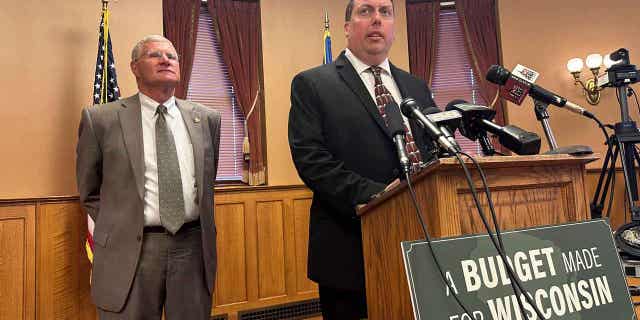 Committee co-chair Rep. Mark Born said there were a "ton of worthy projects" being funded, while calling what Evers originally wanted to spend was "unrealistic." He did not specifically address not funding the engineering building.
"There's a lot to be proud of in this," Born said.
WISCONSIN ATTORNEY SEEKS SEX ASSAULT CHARGE DISMISSAL FOR CLIENT WHO ALLEGEDLY DISMEMBERED LOVER
The committee did approve Evers' plan to spend $285 million to replace the Camp Randall Sports Center, also known as the Shell, with a new indoor practice field for the Badgers' football team. The new facility will include a 100-yard synthetic turf, underground parking and a 200-meter indoor track.
One UW System project approved by the committee was $231 million to demolish the science building at UW-Eau Claire and build a new facility to house several programs.
Not included was $182 million to demolish and replace the science building at UW-La Crosse and $169 million to partially demolish, renovate and build a new art building at UW-Madison.
Other projects approved include an additional $60 million for the already approved construction of a new state history museum near the Capitol and about $84 million for improvements at a variety of Wisconsin National Guard facilities.
CLICK HERE TO GET THE FOX NEWS APP
The committee approved the lower building funding total on a party-line vote, with all Republicans in support and Democrats against. It now becomes a part of the two-year state budget the committee is writing, which the full Legislature will likely vote on later this month or in early July. It would then head to Evers.
The amount approved, although lower than Evers requested, is more than the past two state budgets.
Two years ago, Republicans approved spending $1.5 billion on building projects out of the $2.4 billion that Evers proposed. In 2019, Evers' first budget, Republicans approved $1.9 billion out of $2.5 billion that Evers wanted.