The woman accused of murdering her Boston police officer boyfriend by backing her SUV into him in a driveway after a night out drinking appeared in court Wednesday.
Karen Read, 43, has pleaded not guilty to charges of second-degree murder, motor vehicle manslaughter while driving impaired, and leaving the scene of an accident in connection to the January 2022 death of her boyfriend, Boston police officer John J. O'Keefe. She has since been freed on $100,000 bail. 
O'Keefe was found unresponsive outside the home of a friend, who is also a Boston police officer, in the snow the next morning and taken to Good Samaritan Medical Center in Brockton, where he was pronounced dead several hours later. 
Prosecutors accuse Read of backing her SUV into O'Keefe after a night spent at bars, but the woman's defense team insist her boyfriend was beaten and attacked by a dog at the home that night. During the preliminary hearing in Norfolk Superior Court Wednesday, a judge ruled that the court would not hold an evidentiary hearing which would have included testimony from witnesses, WCVB reported. The next hearing was scheduled for July 25, though a trial date has not been set. 
MASSACHUSETTS WOMAN ACCUSED OF KILLING COP BOYFRIEND COULD BE EXONERATED WITH NEW EVIDENCE: DEFENSE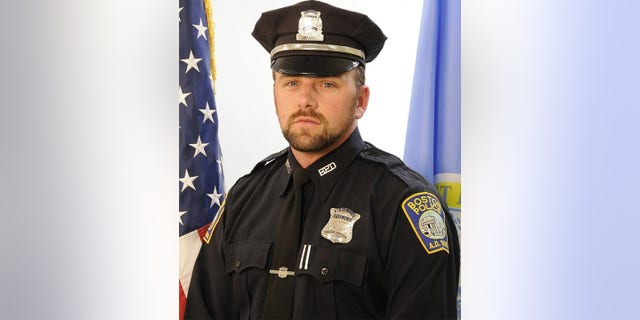 Read was initially indicted by a Norfolk grand jury in June on charges of second-degree murder, motor vehicle manslaughter, and leaving the scene of a collision causing death.
Her defense team had filed motions to subpoena two witnesses, Brian Albert and Jennifer McCabe, to question them on the contents of their cell phones. 
Albert, also a Boston police officer, owns the home on Fairview Road in Canton, Massachusetts, where O'Keefe was found outside unresponsive around 6 a.m. during freezing temperatures, the Boston Globe reported. McCabe is reportedly O'Keefe's sister-in-law. Prosecutors say Read had driven O'Keefe to the home around midnight to attend an after party, and that video footage from the bars that night showed Read consumed several beverages and likely had a blood-alcohol level far above the legal limit.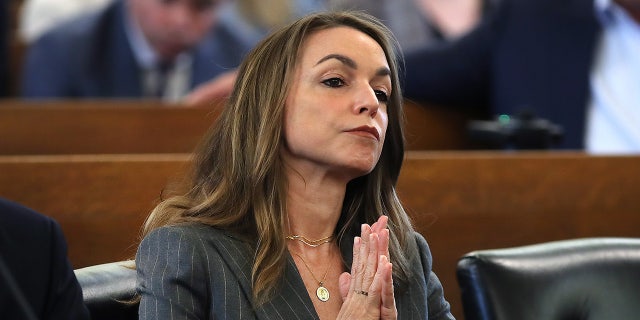 MASSACHUSETTS WOMAN ARRESTED ON MANSLAUGHTER CHARGE IN DEATH OF BOSTON POLICE OFFICER: DA
Prosecutors contend that Read made a three-point turn to reverse direction and struck O'Keefe outside the Albert's house before driving back to O'Keefe's home, where she frequently stayed. Read came back the next morning around 6 a.m. with two other women and discovered O'Keefe's outside. 
Prosecutors also noted in court documents that Read allegedly exclaimed while a paramedic was present, "I hit him, I hit him, I hit him."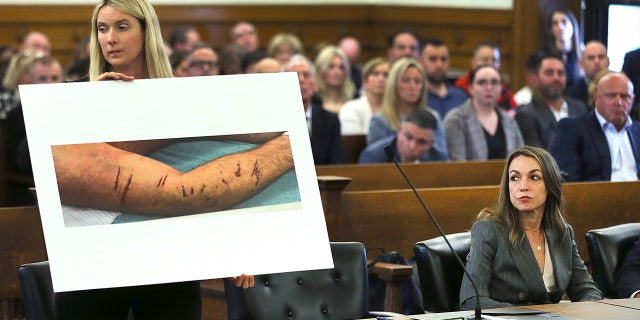 Read's  defense has argued that O'Keefe was beaten that night during the after party and that someone was trying to frame his girlfriend.
Read's attorneys argued that the phones might contain exculpatory evidence, but prosecutors responded to the motions arguing that defense is conducting a "fishing expedition" and have failed to demonstrate any evidence backing what they deemed a conspiracy theory.
Defense said in a court filing that McCabe had searched on her phone at 2:27 a.m. how long it took to die outside in the cold more than three hours before O'Keefe's body was found.
Read's attorneys also noted Apple Health data on O'Keefe's phone showing that he took 80 steps and climbed the equivalent of three floors between 12:21 a.m. and 12:24 a.m., and that his phone had "pinged" in the area of Albert's home at 12:19 a.m. They argued that the data confirmed that O'Keefe entered Albert's residence after Read dropped him off. 
CLICK HERE TO GET THE FOX NEWS APP 
Prosecutors contend that the defense is misinterpreting the data. In another filing, Assistant District Attorney Adam C. Lally said that at around 6 a.m., when Read and the other two women came back to the home and found O'Keefe, that Read shouted to McCabe to search Google for "'How long do you have to be left outside to die from hypothermia?' or something to that effect."